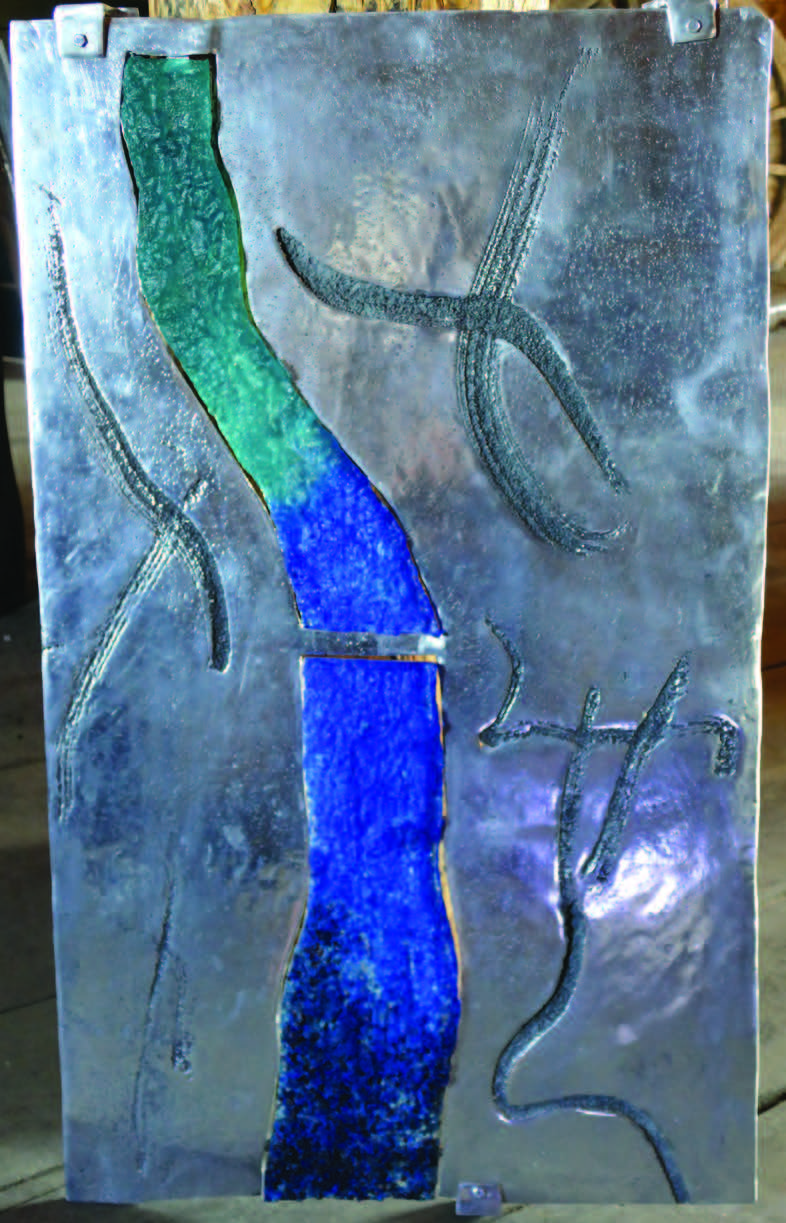 BY SUZI MITCHELL
Kneeling on the wooden floor in his eclectic studio-gallery in Hahn's Peak, metal sculptor David Marshall is holding his breath. He watches intently as glass artist Jennifer Baker positions a series of colored rivets over a carved seam in an aluminum mount he recently shipped in from Spain. The innovative duo is preparing one of over 25 pieces for a collaborative art show in February at Gallery 89.
The show, "Symbiosis II," is a testament to both artists' unwavering vision of merging two very different media, in defiance of scientific and geographical obstacles. Not only do metal and glass react differently to temperature and molding techniques but also, Marshall and Baker work on separate continents. 
Scottish-born Marshall, a world-renowned sculptor, casts every piece of metal at his main residence in Benaojan, a pictorial hillside village in Andalucía, Spain. He and his wife, Dagmar, travel extensively, including regular visits to the holiday home they built in North Routt, settling on Steamboat Springs after years spent skiing in the West. Marshall, a gatherer of worldly objects, uses his passion for repurposing to fuel his appetite for abstract art. 
 Inspiration for "Danubio" (kiln-casted glass and cast aluminum, 46 x 26) came to Jennifer Baker in the shape of a broken shelf that reminded her of a river. The duo named the completed piece after the Danube, Europe's second longest river.
"His style is very raw and he works without boundaries, which has inspired my own creativity so much," Baker says. Her landscape and floral glass wall hangings are instantly recognizable across Steamboat, but it is her abstract works she is excited to showcase in February.
Mutual friends brought Marshall and Baker, an Ohio native, together while they were both exhibiting years ago at the former Circle 7 art gallery in Steamboat. When Baker approached Marshall to build a metal base for a glass sculpture she had made, it ignited a creative fire, which resulted in their first collaborative show at the Art Depot in August 2015, called "Symbiosis."
"I've definitely got Jen into odd things she wouldn't have done before," Marshall says, laughing. The harshness of his metalwork is softened by the whimsical reactions of light on the glass within each piece. Baker, who finds beauty in nature and everyday objects, uses her colored glass to complement the brass or aluminum wall hangings and pedestal sculptures.
When they collaborate, they have an unconfined system. Each artist outlines a vision for a piece, prepares his/her own mold – he uses sandcasting in polystyrene molds and a heated carving tool; she uses a layering and casting technique and a kiln. Then they brainstorm and set about
putting it altogether, or, they head back to the drawing board. They communicate through the whole process by constantly taking measurements, emailing photos or sharing videos online, and talking on the messaging app WhatsApp.
"Nothing is defined with abstract art. It allows you to have incredible freedom and a chance to let go," Baker says. "When David and I work together it is very much about, 'What do we need to do to make this happen?'"
As they rise from the floor of Marshall's studio they look at what they've accomplished: Another masterpiece inspired by whimsy and created without boundaries.
"Symbiosis II" is showing at Gallery 89, Feb. 1-28.
Metal sculptor David Marshall watches as glass artist Jennifer Baker places colored rivets into the piece "Guardiaro," featured in their collaborative art show at Gallery 89 in February.
Colored glass rivets span a metal gap in the piece "Guardiaro."